"Writing isn't something I do. It's something I am." – Dr. Wayne Dyer
.

Along the corporate life trajectory writing has kept me consistent company, decade in and decade out. I began writing at age 4 and haven't stopped. Why would I? It's the medium where I'm my most honest self and often I'm not even quite sure how I'm feeling or thinking or processing a life situation until I put the words to paper. Or to laptop or both.
 .
There's a million ways to answer the question, "How do you know if you're a writer?" One, of course, is to read. A lot. As much as possible. And not just today's headline-driven social-media bastardized written English. I'm talking about proper grammar, in whatever language you're conversant in. Reading the classics, reading non-fiction, reading Dr. Seuss. Just yesterday over brunch my friend Deena and I were discussing Roger Ebert's last book Life Itself and what an impeccable writer he was. For Ebert writing was a craft, a meticulous process that ensured that only were his readers going to read something intelligent, but, also, that the written language would remain perfectly in tact: grammar, punctuation, spelling. Yes, these things do matter. To the right person? A total turn on.
 .
My favorite definition of how do you know if you're a writer is, "You write every day." And this is what I do. Whether it's working on one of the several books projects, this blog, my numerous journals or for a publication, every day I challenge myself to get something out there. My latest pursuit has been writing meaningful and clever tweets that tell a whole relationship story arc. I'm not sure what I'll do with the collection of recollections, but it's going to be a series of narratives all limited to 140 characters or less. Learning to write staccato and mastering brevity is a whole new tone and space for me.
 .
In the past decade I've also taken some pretty fantastic writing seminars with some truly talented people. To admit, I did take my first Writing for Magazines class at the DePaul MFA program. And I loved it. This was pre-blogging, pre-social media and when old school mailed query letters (pitch submissions) still mattered. They still matter today, of course, but back in the mid to late-90s, they were the only thing that mattered. (Besides personal connections – they supersede everything.) But I left the MFA for the MBA and the rest, they say, is history.
 .
In late 2007, when I lived in Downtown Cleveland at the Statler, after a long day at work got home, opened my mailbox and found a flyer. It was addressed to the previous tenant and it was an invitation to partake in a Writer's Seminar on the very first Hay House Publishing chartered cruise. Chery Richardson, the prominent lifestyle author featured on Oprah, would teach the course and other Hay House authors would offer discussions on their topics.
 .
If you know anything about Hay House, founded by Louise Hay, you know it's all about the spiritual and the deep. It's the number one publisher of self-help books in the world. Frankly, at the time, I didn't know much about them or Louise or any of the people listed. But I did know who Cheryl Richardson was, was excited about the idea of going on a Writer's Cruise and, oh, by the way, it would be to Cabo and other Mexican cities. What's not to love?
 .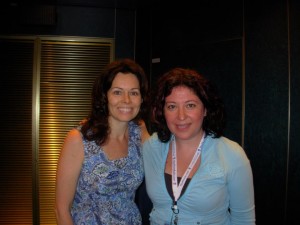 So in Spring 2008, I flew out to San Diego, boarded a big boat,
met my cruise cabin mate and let the adventure begin. We had seminars for several hours every single day and the rest of the time we got to enjoy the sunshine. Cheryl Richardson is one accomplished, smart woman and the discovery I made during that week wasn't so much about the craft of writing, but, rather, the business of how to build your platform. As an MBA I found her pragmatic advice enlightening. Again, it was on the cusp of Facebook and Twitter taking over everyone's marketing message. So yes, lots of talk regarding the query letter and, also, about how to position yourself as the expert in your field. How to work the media to your favor. How to be a pundit.
 .
One day, she told us, "I have a special treat for you. Please welcome my friend, Wayne Dyer." I must admit, while I was familiar with who he was, back in 2008 I couldn't necessarily name you a book title of his. But the moment he walked into the room, I loved his energy. Wayne was humble, kind, wise and generous. He even offered his cabin number in case any of us wanted to talk to him privately. This was also a time when not everyone had a camera on their phone. I was smart enough to have my digital camera with me and asked my writing peers to take a photo of Wayne and I.
 .
I've cherished this photo for years. And, of course, I know his book titles and PBS relationship and career story well. When he passed earlier this year, it truly hit me hard as I got to shake hands with him, speak with him and exchange a few ideas. But it was his generosity and authenticity that resonated with me most.
 .
On that cruise, I did my part to pay it forward. There was a group of Baby Boomer women, who'd all lived fascinating lives and now had something to say. They wanted to write their books and being such good students of Cheryl Richardson wanted to take the first big step in building their writer platforms. So one night, after dinner, we went to the ship's wifi center and there I taught these wonderful ladies how to start their blogs. And in real time they did, launching their first posts.
 .
It was a pretty cool moment and it was a pretty cool cruise. It was also the first of several writing seminars that would shape and influence my work, with my own material, as well as with my students and clients.