Alexsandra (Alex) Sukhoy, a life-long Marketer and Branding Expert, holds a B.A. in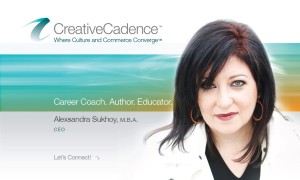 Communication with a major in Mass Media and a minor in Art, from DePaul University and an M.B.A. in Marketing and in Competitive Strategy from the Simon Business School. Over the course of two decades she climbed the Corporate America Ladder, earning numerous leadership roles at global organizations, launching thousands of products and managing cross-functional teams, all the while presenting to key senior executives. For the past decade, she's manifested business from the entrepreneurship angle, as Founder and CEO of her consulting company Creative Cadence.
Alex loves integrating her business savvy and her creativity to help people and companies achieve their professional goals. She's has been profiled in Bloomberg Businessweek and featured in numerous publications, including International Business Times, Newsweek Japan and U.S. News and World Report, as well as invited to guest lecture on steering the corporate environment, at various universities and community organizations. She holds an Adjunct Faculty position at Cleveland State University's Monte Ahuja College of Business, growing her 1000+ undergrad and graduate students' understanding of marketing and the business environment. For over five years Alex wrote the Career ToolBox column for award-winning CoolCleveland.  She also taught at the Journalism and Media Arts departments at the Cuyahoga Community College and for two years she actively contributed movie industry insight, producer interviews and film critiques to Film Slate Magazine.
Alex's latest book – Date Your Career: The Longest Relationship of Your Life, is currently available on Amazon, in both paperback and Kindle editions.

Alex thrives on travel, befriending people of all backgrounds and cultures, creating an extended family that spans the globe. In 2014 she partook in a travel adventure that included living and writing in Dublin, Ireland.