What is it about movies that excite and thrill us? And how fortunate is Cleveland to be the new cinematic artery, pulsating with a tax incentive that the Film Commission fought for and passed, bringing The Avengers production here and a newly announced, not yet named Paramount project? And how privileged are we to have a globally respected film festival that, thirty-five years ago, recognized that the C-Town citizens craved their multi-sensory culture?
Movies connect the disconnected. They unveil the unexplained. They calm the chaos. And documentaries? They transport the truth.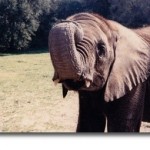 "I've heard so much great stuff about the (Cleveland International Film) Festival," shared Lisa Leeman [pictured below; at left]. Leeman, who directed One Lucky Elephant, and who also teaches film at the highly coveted USC School of Cinematic Arts, was thrilled to have her documentary screened at the CIFF. Cristina Colissimo wrote and produced the movie, a decade in the making and a very personal project, given that Colissimo grew up with elephants, watching her dad work with them at the Miami Metro Zoo.
Personifying animals is anything but simple, yet Lisa, with her talent precise and her heart open, manages to draw in the audience on this "father and daughter interspecies love story" between David Balding, a colorful and passionate circus producer and Flora, his beloved and often stubborn elephant. Flora, a rescue elephant and now a teenager, must find a new home after spending most of her life with David. The stress, emotion and heartbreak that David and Flora both reveal exemplifies that relationships are rarely simple yet, simultaneously, uniquely universal. In fact, Lisa manages to go so deep as to drive debate as to who is the story's real protagonist: animal or man?
The question, answered for some but not for others, transcended the audience at the CIFF. Individuals who attended the screening felt moved and, even if they knew nothing about elephants walking into the theater, most fell into an emotional abyss, caring for both David and for Flora, wiping the tears off their cheeks by the film's end.
Cleveland's connection with One Lucky Elephant goes beyond its CIFF screening. Tchavdar Georgiev co-edited the film with award-winning Kate Amend (Long Way Home). In 2010, Georgiev, along with Amanda Pope, brought the festival darling The Desert of Forbidden Art to the CIFF. When asked on how Cleveland differentiates itself from other festivals, Georgiev states, "CIFF is all centered on love of cinema and not on anything else, like partying or celebrity. You're lucky to have (artistic director) Bill (Guentzler) here to do that. Not that many film festival programs are fanatics of cinema."
In addition to Georgiev's sophomore presence at the CIFF, Clint O'Connor, the film critic for the Plain Dealer, contacted Lisa when he saw her name in the credits to see if she was the same Lisa Leeman he'd known freshman year of college. Says Lisa, "I was delighted to see him."
And, as timing would have it, just this April, the Cleveland Metroparks Zoo added a new African Elephant Crossing Habitat. Lisa's response to the news? "It's great that the Cleveland Zoo's education center will teach the public about threats to elephants' survival in the wild, like poaching and ivory trading – but at what expense to the five elephants who will live out their lives in captivity, in too small a space, and without the large family herd environment they'd have in the wild? Five acres is very small compared to the thousands of acres elephants would roam in the wild. After making One Lucky Elephant, I get a queasy feeling when I see any wild animal in captivity."
Adds Tchavdar, who hopes to bring his next project Girl in the Ring to CIFF, "The affect that we have as humans on environment and animals – we think we're doing nothing wrong, that we're the masters of this universe. These animals are wild and they need to be kept in the wild and not in captivity. The human love is neither necessary nor right for them."
One Lucky Elephant, shot both in the U.S. and in Africa, has now found home with the queen of television: Oprah. Earlier this year, when the film screened at Sundance, unexpectedly, the media mogul showed up and hand-selected Elephant for her new channel, OWN, stating, "I want to do for documentaries what I've done for books." According to Leeman, OWN will be making the television debut of the film "later this year, probably between October and February, which gives us a chance to take the film to theaters and community screenings around the country, including our theatrical premiere at Manhattan's venerable Film Forum this June!"
In the midst of this cinematic whirlwind, Leeman had an opportunity to reflect on her Northeast Ohio experience. "This is a brief visit and Cleveland needs to bring me back. As I look out my hotel room and see the (downtown) demolition right next to the (newer football) stadium, it's like this visual metaphor: the tearing away of the old and making room for the new."
How very cinematic. And how lucky for us.
Additional information about One Lucky Elephant is available on its website http://OneLuckyElephant.com and Facebook page.
[Pictured: Above – Flora at a young age. Lisa Leeman (left) and Alex Sukhoy]

Reprinted with permission and gratitude from CoolCleveland.com.