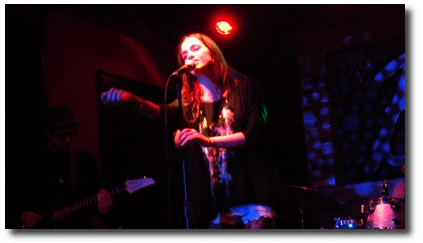 Misty Gonzales: L.A. Rocker Returns to Cleveland
L.A. rocker Misty Gonzales recently returned to Cleveland for a set at Brothers Lounge, rocking out the audience with her unique style and impeccable vocal chops. Misty has made Cleveland her second home, following a tremendous performance at the Rock Hall earlier this year and then singing the National Anthem at the Cleveland Brown's game this past October.
With Cleveland radio legend Tom Wilson, Misty formed Freedom Child Entertainment, touring the country with her Rock 'n Roll Freedom Show, complete with lighting effects, aerial performers and pole dancers. Affectionately calling her fans her "freedom children," Misty is incredibly nice, pretty and talented — a combination rarely associated with musicians of her caliber.
Misty will be back in Cleveland this winter for an acoustic show at Nighttown, and with plans to perform in NEO more frequently. Given our town's history and love of rock 'roll, we're grateful that Misty is establishing her craft here, home to great people who know great music. Keep checking Nighttown's schedule for updates.
Reprinted with permission and gratitude from CoolCleveland.com.